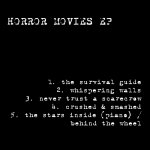 Demo CD with a prerelease of the latter Music for Horror Movies. As a bonus track includes a piano version of The Stars Inside from the CD 1896 and a cover of Depeche Mode's Behind the Wheel.
All titles composed and arranged by Angel Ortega except Behind the Wheel by Martin L. Gore / Depeche Mode, arranged by Angel Ortega.
Voice, guitars, keyboards and programming by Angel Ortega.
(C) Angel Ortega 1998
The Survival Guide - 05:05
Whispering Walls - 03:49
Never Trust a Scarecrow - 04:13
Crushed and Smashed - 03:32
The Stars Inside (piano) - 02:16
Behind the Wheel