More on Antichthon Universalis
Ángel Ortega

Pavel has sent to me some scans of Antichthon Universalis, the recently found encrypted text, and it's a rather curious document. The drawings are certainly strange and hard to understand, but what I find more surprising is the scripting: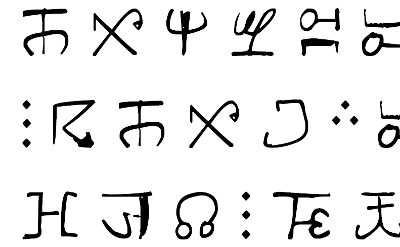 All text is equally separated, glyph by glyph, as if it was a Chinese or Japanese text. I'm not sure if it's meant to be read horizontally or vertically.
Pavel is in contact with an old friend of him that is a linguistic scholar and had just sent him the book to have a more experienced opinion on it. It's certainly not a known script; some letters resemble Alchemical symbols, others seem deformations of the Enochian alphabet.
I'm busy these days so I had not time to dive into it yet; as soon as I have more information, I'll publish it here.